藝評
---
Art Basel Hong Kong 2013
約翰百德 (John BATTEN)
at 2:52pm on 14th June 2013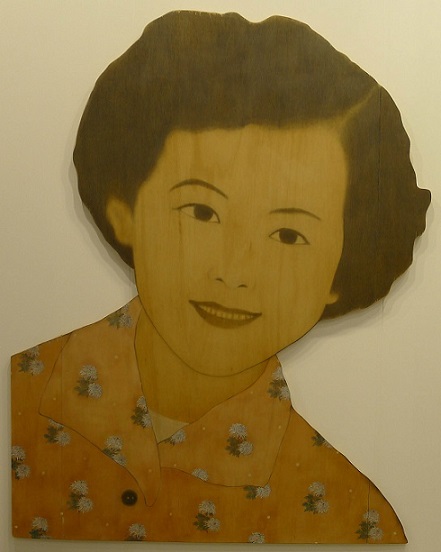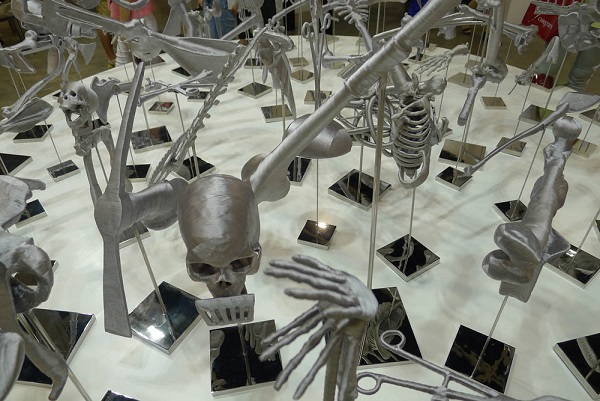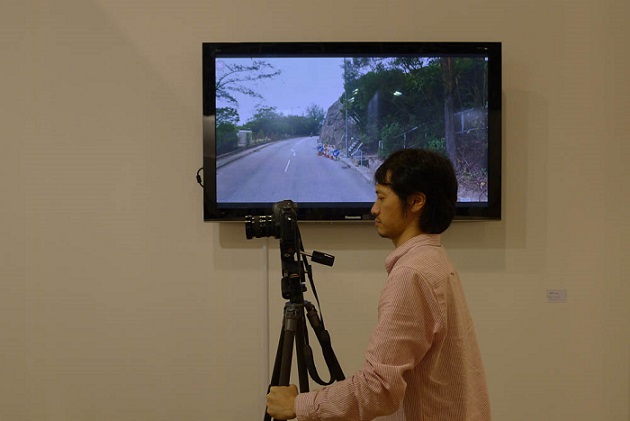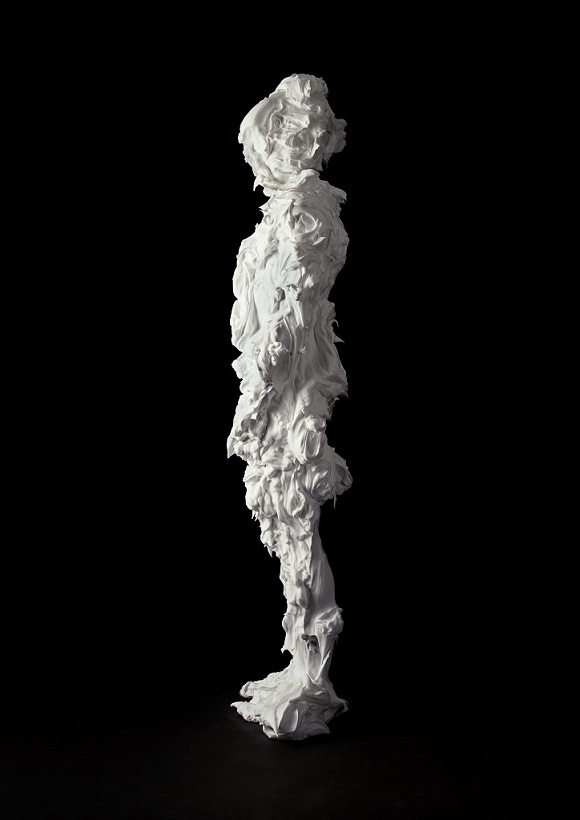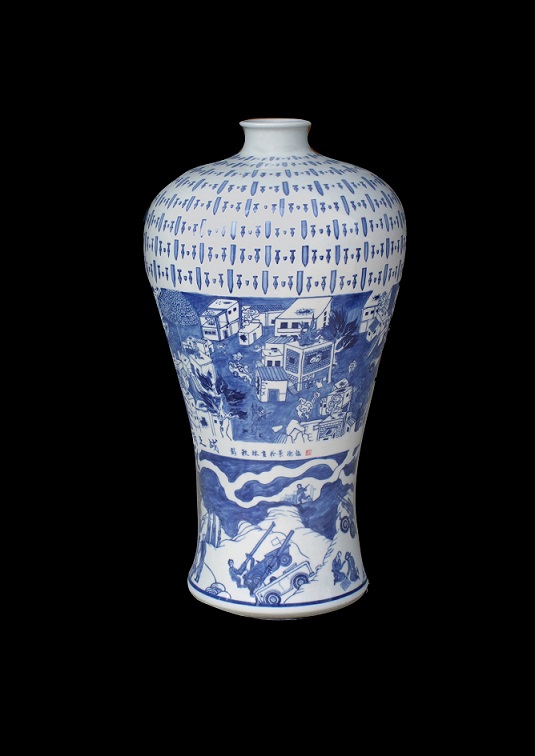 Captions:
1. Ivy Ma, Mother, pastel and graphite on plywood, 2013. Courtesy of Gallery Exit, Hong Kong. (Photograph: John Batten)
2. Lin Tianmiao, More or less the same, polyurea, silk threads, stainless steel. Courtesy of Galerie Lelong, Paris. (Photograph: John Batten)
3. Yuichiro Tamura in front of his video Nightless version 11HD. All images from Google Street View, 25 minutes, 2013. Courtesy of Yuka Tsuruno Gallery, Tokyo. (Photograph: John Batten)
4. Marcus Coates, Iron Prominent, Notodonta dromedarius (Moth) Self Portrait, shaving foam, 2013. Courtesy of Workplace Gallery, Gateshead, United Kingdom. Archival Giclée Print mounted on Aluminium, 172.7 x 121.9 cm, 68 x 48 in, edition of 5 plus 1 artist's proofs.
5. Raed Yassin, Yassin Dynasty (No.16), hand-painted porcelain vase, 2013, 50.5 x 28 cm. Courtesy of Kalfayan Galleries, Athens - Thessaloniki, Greece.

(原文以英文發表,評論香港巴塞爾藝術展2013。)
As the city of Basel prepares to host the 44th Art Basel next week, this small Swiss city expanded its own luxury branding of art into Asia with the inaugural Art Basel Hong Kong, successfully succeeding its predecessor, the Hong Kong International Art Fair.
This has been achieved through Basel's majority ownership of the world's largest exhibition and trade fair company MCH Group. The company's fairs already cover a range of luxury products, including Baselworld, the preeminent watch trade fair, keenly attended by Hong Kong's watch retailers whose businesses operate in the world's largest retail watch market. Basel has now strategically widened their city's association with luxury consumer products in Asia through its active involvement in the region's visual art market. Hong Kong, a trading entrepôt itself, can both embrace Art Basel – but must acknowledge that art is created by artists whose inspiration is not necessarily from the market.
Visitors to this year's fair commented that it was "more serious", "better organised" and "as not as much fun". This is all possibly true, a consequence of Art Basel branding and strategic changes to tighten the organization and overall 'look' of the fair. The displayed art was balanced and the fair's interior design gave better viewing.
The introduction of higher gallery participation charges and stricter vetting of proposed artwork avoided the possibility of multiple galleries showing work by a single artist. Consequently, there were fewer pieces on display by market favourites Candida Höfer, Damien Hirst, Anish Kapoor, Bill Viola or Takashi Murakami. However, it appears vetting is not strictly equal as booths that solely displayed Fernando Botero and Andy Warhol or those showing a potpourri of work were amongst the weakest. Previously, the over saturation of some artists' work reinforced the criticism that art fairs commoditized art.
Art Basel Hong Kong provided highlights and opportunities for younger and older, unknown and regional artists to exhibit alongside established marketable artists to a diverse international and Asian audience – many whom had flown in to see this first Art Basel in Hong Kong. But there were few surprises or displays of exhibitionism. The "Encounters" section of larger installation pieces in public areas of the fair lacked frisson. In previous fairs this work had been a highlight. Although nominally curated – this year, by Yuko Hasegawa – the impetus for bold presentation comes from the enthusiastic sponsorship of galleries. It did not happen this year.
Cecilia de Torres Gallery from New York presented a perfect display and range of Latin American geometric abstraction. The 92-year-old Argentinean artist León Ferrari received the Gold Lion award at the 2007 Venice Biennial and exhibited at New York's Museum of Modern Art in 2009 but is unknown in Asia. His Letters to a General series of coded abstracted writing has an underlying political message criticising Argentina's then military junta and a complicit Catholic church concealed by his calligraphic virtuosity. Nearby, the Venezuelan Elias Crespin's kinetic sculptures of stainless steel rods manipulated by computer-controlled moving nylon threads floated in the air, beautifully permutating into different forms and shapes.
Previously unseen in Hong Kong, the Japanese artist Sadamasa Motonaga had a generous display of beautiful abstract resin and acrylic paintings at McCaffrey Fine Art. Similarly, the influential Arte Povera artist Jannis Kounellis, born in 1936, should be more visible in Asia. A single mixed-media construction by him complemented the tightly wrapped silk threaded object installation More or less the same by mainland artist Lin Tianmiao at Galerie Lelong.
Workplace Gallery in Gateshead near Newcastle is far from the gravitational influence of London's art world, but the gallery's lower overheads and regular attendance at art fairs is a strategy to promote their artists. Their presentation of Marcus Coates' self portrait photographs covered in shaving foam was an unsettling chrysalis transformation within a human guise.
Shown at Kalfayan Galleries' booth, Lebanese artist Raed Yassin's ceremonial vases of 'victories' during his country's civil war of 1975-1990 were in the form of traditional Chinese export porcelain, hand-painted and manufactured in the mainland ceramic centre of Jingdezhen. Echoing the ancient tradition of recording victories at battle, these vases instead depict destruction and fear rather than valour.
The work of Hong Kong artists was prominent. Hung Keung's interactive video display at Schoeni Art Gallery continues his explorations of the traditional ink-painting genre; his latest effort verges on techno abstraction. Tsang Kin-wah's spidery designed text installation covered the floor of Pearl Lam Galleries' booth. Gallery Exit with Ivy Ma's large retro-styled painting of her mother and the fine drawings of Wai Pong-yu at Grotto Fine Art impressed. Tang Kwok Hin installed 2P Contemporary Art Gallery's booth with a tight display of perspex-encased objects as if they were being sold in a stylish industrial steel-floored supermarket. A foretaste of Lee Kit's domestic interior installation now showing in Hong Kong's Venice Biennale pavilion was seen at Vitamin Creative Space.
The many galleries from India demonstrated the strength of their contemporary art scene. Delhi Art Gallery showed a solid range of post-war Indian modernism, including M.F. Hussein, Laxma Goud, Jogen Chowdhury, who underpin the current market. India's changing urban landscape is mirrored in the thousands of saint-like faces of rural immigrants shown on small steel badges of Yalay Shende's constructed travelling trunk in Sakshi Gallery.
Documentary photographs of performance artist Marina Abramović were available in different galleries around the art fair. And Ark Galerie of Yogyakarta displayed Indonesian artist Melati Suryodarmo's props for one of her endurance performances – a set of piled mattresses. Photographs of Dialogue with my sleepness tyrant shows Melati trapped, arms and hair thrashing, struggling between mattresses, a metaphor for a woman struggling within the conforming expectations of society.



Melati Suryodarmo, Installation of 'Dialogue with my sleepless tyrant' performance mattresses and documentation photographs, 2013. Courtesy of Ark Galerie, Yogyakarta, Indonesia. (Photograph: John Batten)


The most impressive conceptual display at the fair was the video, photography and installation by Yuichiro Tamura at Yuka Tsuruno Gallery of Tokyo. Tamura's trip to Hong Kong for ten days in March researched the city's history. Returning to Japan, Tamura planned his display. Using Google, views around Hong Kong were sourced. These temporary cyber-images found in Japan about Hong Kong were printed as a platinum print – one of the most permanent photographic print processes. The key internet search words were then carved (using a Buddhist carver of wooden funerary objects, located in Yau Ma Tei) into the wooden frames of each photograph. Despite their unusual origins, these framed photographs, are now a permanent record about a momentary aspect of Hong Kong's past.
Likewise, a moment in time is captured in Tamura's Nightless video; a stitched video road journey from Chek Lap Kok Airport to Aberdeen sourced from Google street view images. Despite Hong Kong's famous night views, these are all unseen as Google's images are only recorded at daytime.
Squeezed between artist Ho Sin Tung's videos and a drawn diary of anecdotes, her disparate history of Para Site art space, and children painting in the booth of the Sovereign Art Foundation, was the smallest information booth at the fair. It had a simple message: "Basel – The cultural capital of Switzerland." There is no hyperbole in this statement, no claims of European or world cultural domination, but from this apparent regional humility a stronger Swiss presence has become evident in Hong Kong.
A version of this article was published in the South China Morning Post on 9 June 2013.