藝評
---
山竹過後 | Typhoon
約翰百德 (John BATTEN)
at 10:10am on 26th September 2018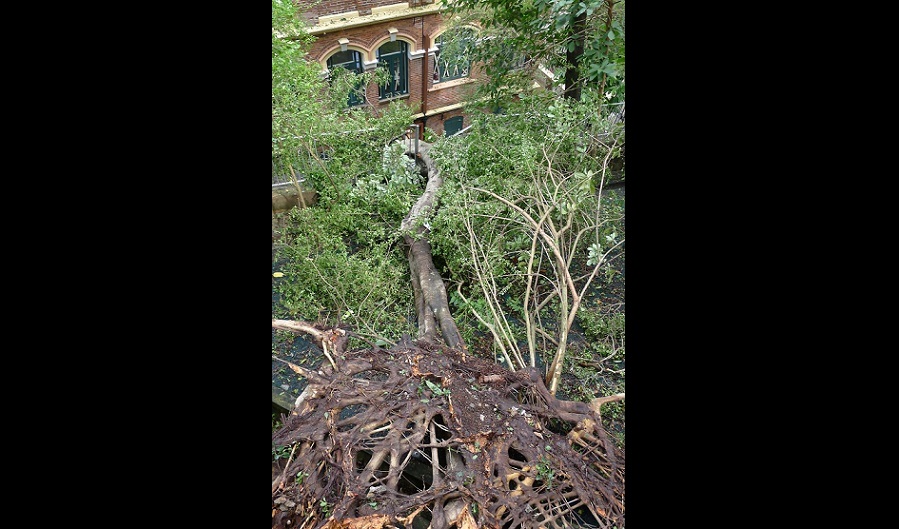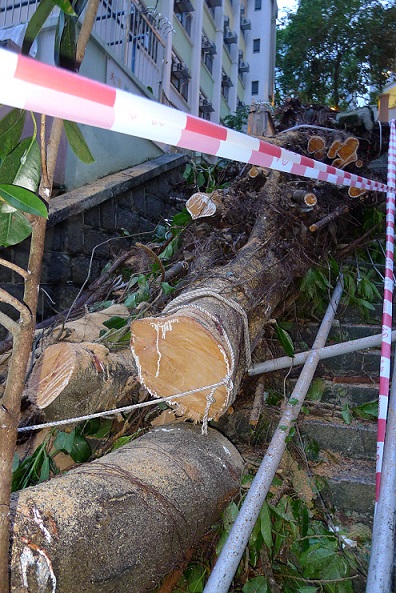 圖片說明 Captions:
1. 本來附牆而生的大樹,在風暴期間被連根拔起;背景為香港醫學博物館 A wall tree, whose roots were peeled from its wall during the typhoon; Museum of Medical Sciences in background.

2. 塌下的印度榕,被鋸斷時在「哭泣」。 The fallen Indian Rubber tree, 'crying' after being cut.

攝影:約翰百德 Photographs: John Batten



(Please scroll down for English version)

我家所在的六層高唐樓曾經擁有海景。大概在1980年代,上環商業區逐步重建,建築物高度普遍提升,海景景觀也告消失。我的大廈位於山頂下,在普慶坊和磅巷的角落,很久以前會直接受迎岸而來的風和颱風吹襲。現在,半山區山邊較高處的高樓大廈,還有鄰近的公寓樓房,為我家大廈提供了多一重保護,把最強勁的大風轉向和分散。我在山竹肆虐香港的星期天,唯一的不便只是在颱風吹襲當天由天台流進樓梯的雨水,很容易便可以用地拖清理。因為整天留在家中,我的時間都花在看書、睡覺和做家務。狂風暴雨打落在我家面前的卜公花園,但人在室內,相對平靜。

即使在這次颱風期間,我也未有感到有迫切需要,要檢查Facebook和電郵;時刻獲悉最新消息並不是我的本能反應。在打風期間,我只收聽著優秀的電台廣播接收風暴消息,然後在友儕間互傳簡單短訊。因為我樂於家中不設電視,而電台廣播有聲沒畫,所以對於香港其他地區在風暴下的情況,我所知甚少。最後,當風暴過去,雨勢在下午五時三十分左右停下,我便往樓下清理樓梯入口被多片掉落石屎弄污的地方,再走到街上清除大廈周圍塌下的樹枝和樹葉,令它們不致阻塞渠道。我再往附近走走,在通往香港醫學博物館、歷史悠久的堅巷碰上街坊,言談間說起街坊家門前那棵我也很熟識的漂亮印度榕已倒下,她感到非常可惜。

星期一早上,我和香港許多其他市民一樣,早一點起床好好觀察暴風吹襲後區內的受損情況。看到颱風遺下滿目瘡痍的狀況,所有人都感到非常震驚。我的小區和香港大部份地方一樣,樹木損失慘重。在堅巷周圍、沿半山區堅道和上環半山一帶,我們失去了部份珍貴石牆樹,但情況可能比現在要差很多很多。所有在般咸道近戴麟趾康復中心的石牆樹得以倖存,而且很神奇地,似乎沒有受到太大傷害,生命力也未見消失。我最後來到了印度榕前。它在我家走上一點的地方,老樹在天主教總堂區學校活了多年,是一棵格外漂亮的大樹,樹冠懸垂在律打街和磅巷交界。大樹塌下,就好像老朋友離我們而去一樣。我幾乎每天路過都會與這棵老樹遇,也十分喜歡它。有時候,學校會殘酷地割走部份枝葉……也許是希望把老樹剷除?但印度榕每一次都能再次茁莊重生。如果老樹在颱風來襲前曾被如常修剪,可能會逃過此劫。然而,近看主樹幹範圍,可以看到樹根幾乎沒有任何支撐;石屎早已扼殺了老樹長根的空間……我在那天稍後時間再次途經印度榕,那時候工人已開始把它鋸開。老樹在哭了。

最後,在那個星期一早上稍後時間,我打開了電腦,看到香港各處所受的破壞,那些風暴期間所有人早已看過的影像。玻璃窗碎裂、水淹民居、棚架倒下、急浪湧向地面、船隻破損,還有擠在大圍、上水、粉嶺港鐵站等待上班的大批市民。我感到無比內疚,因為我在山竹襲港期間,以及風後所體會到的破壞可謂相對輕微。

然而,我幾乎每一天都想起離我家只有約50米,位於普慶坊一處與別不同的地方。這處特別顯眼,因為這裡並沒有興建其他在同一條街上和我家一樣的唐樓。這個地方現在由一家學校佔用,地段所以和同區其他建築不同,是因為這裡在1925年7月17日發生了嚴重山泥傾瀉,摧毀了七間民房,裡面住了三十個家庭,75人在意外中喪生。那一年,熱帶氣旋在7月17日前略過香港,連續四天下著滂沱大雨,雨量達404毫米(17吋 ),地段對上的斜坡護土牆塌下,結果釀成了山泥傾瀉。

普慶坊這個地段正是這宗嚴重意外的見證;而山竹所引發的破壞,可以遠比那次意外嚴重。


原文刊於《明報周刊》,2018年9月28日



Typhoon

by John Batten


Our 6-storey tong lau once had a harbour view. Those views were probably lost in the 1980s when Sheung Wan's commercial area was gradually redeveloped and built higher. Situated directly below The Peak on the corner of Po Hing Fong and Pound Lane, our building would have once been directly exposed to off-shore winds and typhoons. Nowadays, the tall Mid-levels apartment blocks further-up the hillside and neighbouring apartment buildings give further protection to our building and deflect and disperse the strongest winds. My only inconvenience during Monsoon Mangkhut's Sunday onslaught was rainwater coming off the roof into the stairwell. This was easily mopped-up as the typhoon and the day progressed. Consequently, staying indoors, I spent the whole day reading, snoozing and doing some household chores. The ferocious whistling wind and rain rushed across Blake Garden in front of my flat, but inside was relatively calm.

I have never felt any urgency, even during this typhoon, to look at Facebook and emails; I don't have a reflex need to be 'informed' and 'updated'. So, during the typhoon I simply listened to the excellent radio reports of the progress of the typhoon and sent and received some simple text messages to friends. My impression of the typhoon in other parts of Hong Kong was limited to those non-visual radio reports, as I happily also don't have television. Finally, when the storm passed and the rain stopped at around 5.30pm, I went downstairs to clean the staircase entrance made messy by fallen pieces of concrete. I then went outside to clear away fallen tree branches and leaves blocking drains in the street around our building. I then walked around the neighbourhood. I met and chatted with a neighbour on Caine Lane, an historic path running up to the Museum of Medical Sciences. She was visibly upset that the beautiful Indian Rubber tree (a type of banyan) outside her flat had fallen over. I knew the tree well.

On Monday morning, I – like many others – woke early to have a better look at the devastation in the neighbourhood. Everyone was visibly shocked and quiet seeing the violent aftermath of the typhoon. Like much of Hong Kong, we lost many trees. We especially lost some of the area's invaluable wall trees around Caine Lane and along Caine Road in Mid-levels and upper Sheung Wan, but it could have been much, much worse: all the wall trees on Bonham Road near the David Trench Rehabilitation Centre remain and amazingly there appears to be few injuries or loss of life. I eventually came to the Indian Rubber tree. It had lived for years in the Catholic Mission School and was a remarkably beautiful tree overhanging the corner of Rutter Street and Pound Lane, just up from my home. Its destruction was like the loss of an old friend. I would walk past it almost everyday and loved it. Sometimes the school would brutally cut it back...possibly hoping to be rid of it? But, it always revived and grew again as vigorous as ever. Maybe it would have survived if it had been similarly trimmed before the typhoon. But a close look at the trunk area showed how it was holding itself up with almost no root support; concrete had strangled the space for it to expand its root network….I passed the tree again later that day after workers had started to cut it up - it, also, was crying.

Eventually, later that Monday morning, I switched on my computer and saw the extent of the devastation around Hong Kong; images that everyone else had been seeing during the storm. Smashed windows, flooded flats, toppled scaffolding, water surges, wrecked boats and the photographs of crowded Tai Wai, Sheung Shui and Fanling stations of commuters trying to get to work. I felt incredibly guilty, my experience of Typhoon Mangkhut and its aftermath was relatively mild.

However, almost daily, I am reminded by an odd stretch of Po Hing Fong that is just 50 metres from my flat. It is a discernible gap that has none of the tong lau, like mine, that run along the rest of the street. Now occupied by a school, this 'gap' has an explanation: on 17 July 1925 it was the site of Hong Kong's worst landslide that destroyed seven homes, housing thirty families, killing 75 people. The landslide occurred after a retaining wall collapsed on the slope above, following 404mm (17 inches) of rain that fell in the four days before 17 July, as a tropical cyclone passed Hong Kong.

That 'gap' on Po Hing Fong is always a reminder; and, Typhoon Mangkhut could have been much, much worse.


This article was originally published in Ming Pao Weekly on 29 September 2018.