藝評
---
Aida Makoto & Sophie Calle
約翰百德 (John BATTEN)
at 11:22am on 27th December 2014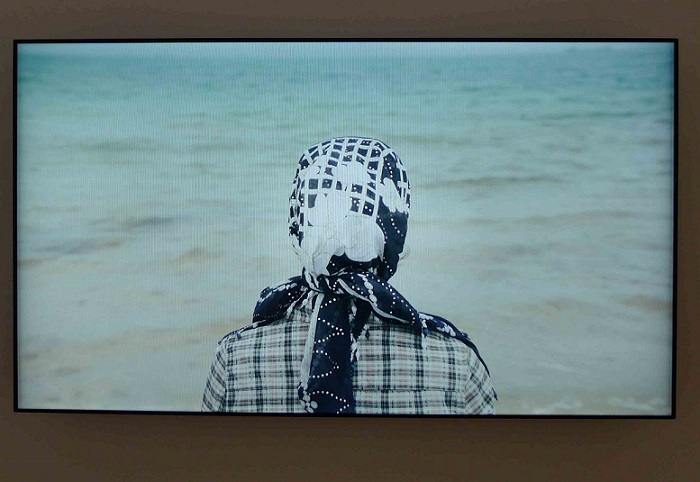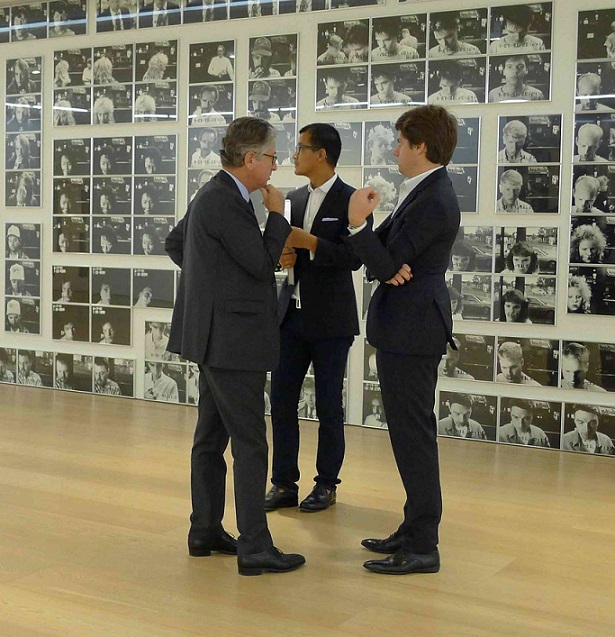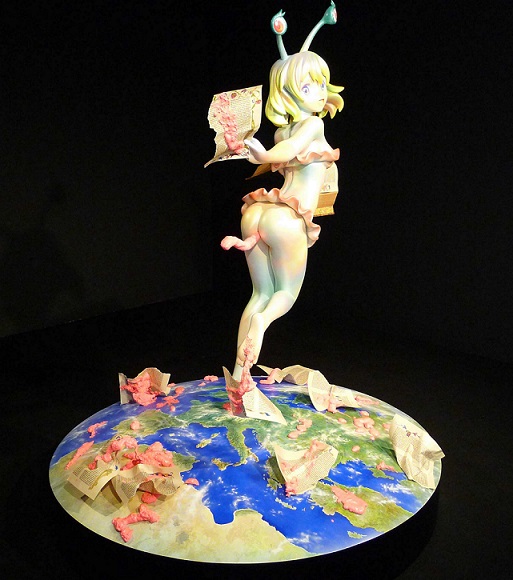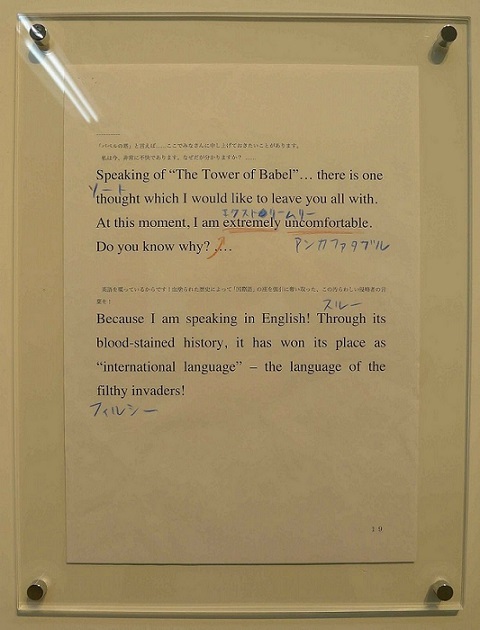 Captions:

1. Sophie Calle: Cash Machine (detail), photograph, 2003.

2. Sophie Calle: Voir la mer (See the Sea), video, 2003.

3. 'Banker-types' in Galerie Perrotin, Hong Kong in front of Sophie Calle's Cash Machine, 2014.

4. Aida Makoto: Comet-chan, mixed media sculpture, 2013.

5. Aida Makoto: Annotated speech (detail) for "The video of a man calling himself Japan's Prime Minister making a speech at an international assembly", ink on paper, 2013.



(原文以英文發表,評論「Aida Makoto & Sophie Calle」展。)

Renowned French artist Sophie Calle explains this pairing with Aida Makoto from Japan resulted after seeing his work at the Hara Museum in Japan. Aida exhibited a head-brace as a mechanism to prevent a child's attempt at suicide (although its title, Attempted Sucide Machine 4th Version implies otherwise). Calle liked the absurdity of the work because she "does not like children." Consequently, a joint interest in provocative enquiry brings these seemingly different artists together in Hong Kong.

Taking prominence in the gallery are 176 photographs from Calle's fifteen-year Cash Machine (see image) project – showing portraits and text of people withdrawing money from an ATM, an act Calle equates to visiting a confessional booth. The changing ideas to realize a final outcome for this project are explained in the accompanying video, Unfinished, an artwork itself.

Galerie Perrotin - view of Sophie Calle's Cash Machine photographs.


Her project is all about money: this acknowledges that the original photographs were not intentional portraits but taken by a security camera to simply "protect the ATM's money." We see Calle interviewing bankers and passersby in the street inviting them to "speak of money" or "tell me how much you earn." Everyone refuses. Calle even asks a chemist to formulate a perfume of the smell of money: whose attributes are "dampness, ink, paper and being unclean."

Aida's supposed scatological obsession in Comet-chan, a life-size manga-inspired sculpture of a provocative, bright-eyed girl is, however, more a spoof of other Japanese artists and their 'serious' but gratuitous depictions of such young women.

In contrast, a video and reproduction of the actual annotated speech of "The video of a man calling himself Japan's Prime Minister making a speech at an international assembly" is an uncomfortable critique on hegemony and nationalism. The speech begins quietly, with an apology for Japanese war aggression, then evolves into a passionate denunciation of globalization, and its ultimate expression, the use of English as its lingua franca.

Calle's compelling Voir la mer is a heartening set of videos of people living in Istanbul, a city surrounded by water, but who have never seen the sea. Calle takes them to the Black Sea and asks each to look. She then asks them to slowly turn around "to show these eyes that had just seen the sea for the first time." It is beautiful finale to an exhibition of many emotions.


Exhibition
Aida Makoto & Sophie Calle @ Galerie Perrotin


A version of this review was published in the South China Morning Post on 9 December 2014.