藝評
---
Review: Jim Lambie / Annie Wan Lai Kuen / Lai Chun Ling and Yu Guy Tse
約翰百德 (John BATTEN)
at 4:08pm on 13th May 2013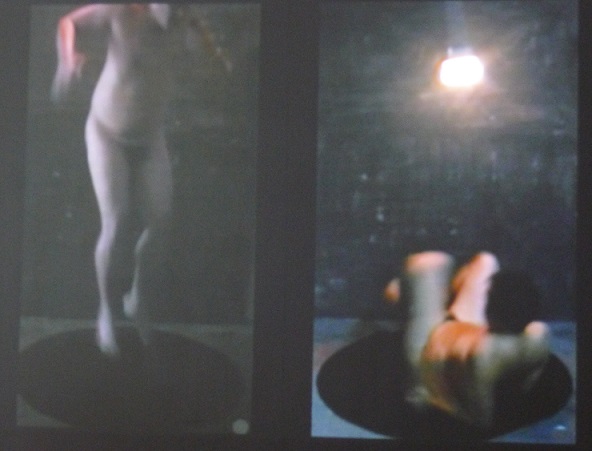 Captions:
Installation views at exhibitions:

1. & 2. Jim Lambie, The Flowers of Romance.

3. Annie Wan, Book . Text.

4. Lai Chun Ling, A Man Falling into a Well.

5. Yu Guy Tse, LEFT: no longer a world of imperfect.



(原文以英文發表,評論吉姆·蘭比、尹麗娟、黎振寧及魏貝妮的作品。)
Annie Wan's Book.Text exhibition at 1aspace was one of a trio of exhibitions that perfectly complemented the spaces in which they were exhibited. Wan's show was a highly charged exploration of political propaganda and censorship on the mainland. But in the best traditions of political irony, Wan allowed just the art to impart the message. In the form of ceramic slip-work and casting, a series of books and portfolios were exhibited, their blank faceless ceramic pages and book covers were innocuous to the eye, with the books' previous content only identified in the title of each work.
The exhibition's intention was further revealed in a prominently placed single shelf of books arranged in a rainbow sequence of colours. The full title on the spine of each selected book was hidden from viewers, except for the word "China" (中國). These hidden words and blank book covers echoed a powerful silence.
An entirely different ambience was created by Scottish artist Jim Lambie's The Flowers of Romance installation at Pearl Lam Galleries. Contemporary music - particularly punk - design, popular culture and colour offered a visual musical theme embracing the entire gallery. Dominant is an entirely vinyl taped floor, one of a series of similar floors all termed by the artist as a 'Zobob', whose optical effect mirrored the grooves in a record. A set of pieces from his 'Sonic Reducer' series, differently shaped concrete-embalmed record covers, are carefully placed around the room. Lambie's own allusion to the scene is that his covered floor is a "baseline played by the drums and bass" with the work sitting above as "guitar and vocals."
Recent graduates from the Hong Kong Art School, Lai Chun Ling and Yu Guy Tse mounted an impressive self-organised exhibition depicting aspects of the human body, its limits of endurance and frailties. Lai's own naked bodily contortions were shown as short videos whose scenes of physicality were similar to Francis Bacon's paintings. In an adjacent room, Yu's subtle light and shadow installation using walking frames and wheel chairs were inspired by her job as a therapist in a rehabilitation centre.


Exhibitions:

Text . Book - Solo exhibition by Annie WAN Lai-kuen

Jim Lambie

Lai Chun Ling and Yu Guy Tse 黎振寧個展「墮井的人」/「左」展個妮貝魏


A version of this article will be published in Perspective architectural magazine, June 2013.