藝評
---
Philippines' Heritage & Art at the Bellas Artes Project
約翰百德 (John BATTEN)
at 5:53pm on 11th September 2013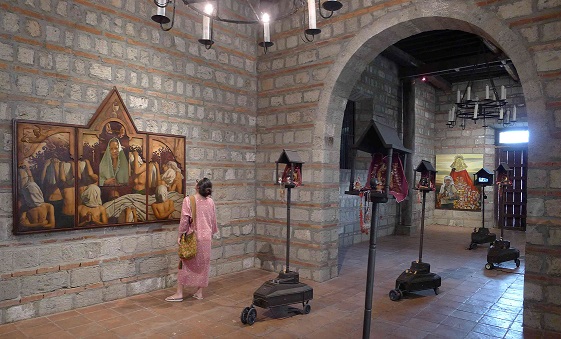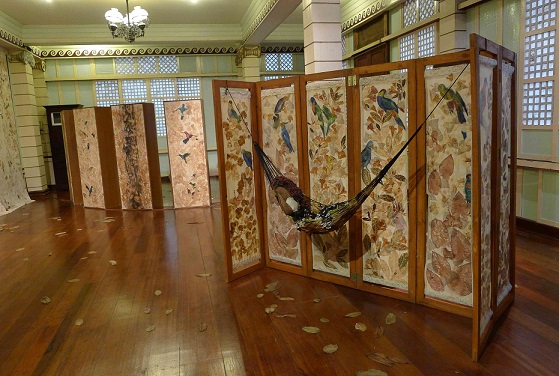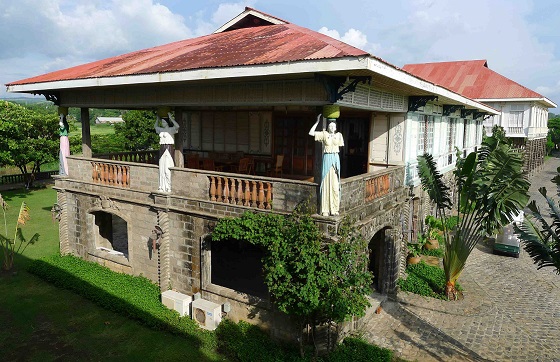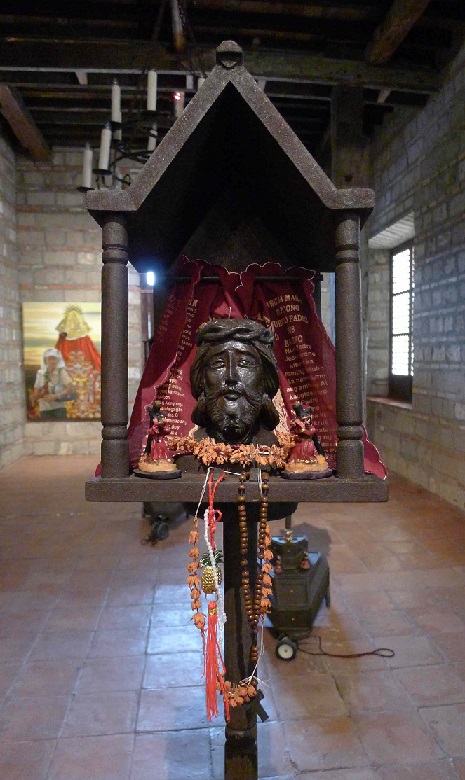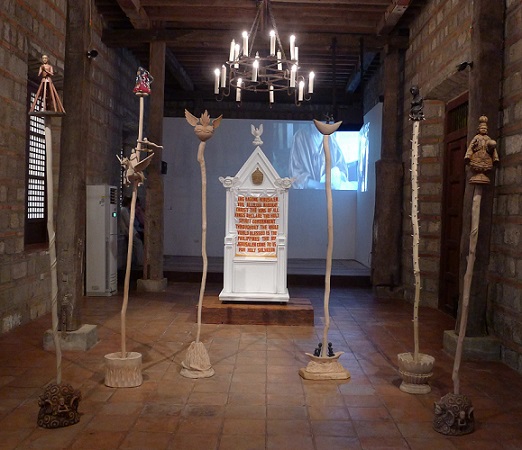 Captions:
1. Interior of Enriquez House with Alfredo Esquillo's 'Coronation' painting (left) and 'Pilgrimage' installation (right).
2. Geraldine Javier's mixed-media 'Sing Me a Song' installation.
3. Relocated Spanish-era buildings from Manila with architectural wooden sculptural features on portico.
4. Detail of Alfredo Esquillo's 'Pilgrimage' mixed media installation - showing a reproduction of the face of the Black Nazarene.
5. Renato Habulan's 'Pilgrimage' installation (foreground) and his 'Mang Lauro's Throne' with video projection (rear).
Photo: John Batten


(原文以英文發表,評論Bellas Artes計劃的菲律賓文物和藝術。)


Las Casas Filipinas de Acuzar is a 400-hectare seaside estate at Bagac, 150 kilometres north of Manila near Bataan's provincial capital of Balanga. Ringed by pristine green hills and rice fields, the estate holds an unusual collection that is both controversial and commendable.
Rather than demolishing the beautiful heritage buildings sitting on construction sites of soon to be built high-rise condominiums, Manila property developer Jerry Acuzar dismantled and transported them for preservation in his home province.
Since 2006, the collection has grown to now comprise 40 different houses and buildings, a unique repository of the Philippine's Spanish-period architecture – and some examples of the country's indigenous buildings. Re-built in a recreated township setting with period street lighting and public squares, these relocated buildings evoke a quieter 19th century ambience.
But there is great controversy in excising a building away from its original location, society and history. In heritage conservation, the ideal setting for a renovated structure is within its original place.
The internationally recognized principles for cultural heritage protection, the Burra Charter, says that "places of cultural significance enrich people's lives, often providing a deep and inspirational sense of connection to community and landscape, to the past and to lived experiences." Importantly, "the physical location of a place is part of its cultural significance. A building, work or other component of a place should remain in its historical location. Relocation is generally unacceptable unless this is the sole practical means of ensuring its survival."
In Hong Kong, the relocation of the original Murray House from Admiralty and Blake Pier from Central (via - for a period - a Kowloon park) to the Stanley waterfront are examples of preservation by removal. This problematic but practical solution has become occasionally necessary in the face of Hong Kong's constant urban redevelopment. The controversy around the demolition of the Star Ferry Building in 2006 could have been circumvented if the government had demonstrated more sensitivity to its preservation and relocation, rather than dumping it in a landfill. When Queen's Pier was later threatened with similar demolition, its dismantling and current storage justified the protests for its preservation.
It is a solution that will also be employed during construction of the Shatin to Central railway link. Three heritage structures, including a Japanese military pillbox, located in the former Diamond Hill squatter area will be removed and returned to their original location after the link's construction.
The removed buildings relocated to Bagac were generally in poor physical condition, slowly collapsing in decrepitude due to the weather and owners' lack of care. Similar to Hong Kong, the Philippines have almost no legal protection for heritage structures located on privately owned land. Often, their removal is the only hope for endangered buildings to survive.
Las Casas Filipinas is set-up as a resort for day visitors to join informative guided tours of the heritage buildings, visit the beach and the site's restaurants. Overnight hotel accommodation is available in a variety of heritage themed rooms. This commercial approach supports the heritage preservation aspects of the site.
Jam Acuzar, younger daughter of Jerry and recent graduate in art history, says the venture has "an active approach to the preservation of each building. After relocation to the site, artisans reassemble the buildings and renovate them using locally fired bricks. Wood carvers and joiners repair the delicate wooden sections. We have artisan workshops on site that make furniture and other fittings that are historically accurate." A welcome consequence is employing residents from around Bataan to support the local economy.
Currently under construction is a large church whose faux heritage exterior will be complemented by art from contemporary Philippine artists. The church will be used for weddings and as a community centre.
The most significant building on the site is the transported Enriquez House, constructed in Manila's original business and arts district of Quiapo (pronounced Kee-ah-po) in 1867. This large graceful building is in the traditional bahay na bato style, granite base and wooden upper section with a classical interior design suitable for the hot, humid Philippine climate.
This historic building was the former family home of Rafael Enriquez y Villanueva who studied fine art in Spain and returned to the Philippines to teach. In 1908 he was appointed the first director of the Escuela de Bellas Artes (School of Fine Arts) at the new University of the Philippines. The Enriquez House was rented to the university as its first art school.
Beautifully proportioned, the building's main portico uses a pairing of adobe wood posts, aligned by carved Ionic pilasters throughout the upper interior. Teaching was done on the large mezzanine floor. Notable artists to train here were Juan Luna, Felix Hidalgo, Fernando Amorsolo, Guillermo Tolentino, Carlos Francisco and Tomas Mapua – artists that now command top prices at Hong Kong's seasonal auctions of South-east Asian art.
Rafael Enriquez was director of the school until 1926, just before his death, when the school transferred its operations to newer premises in Ermita, across the Pasig River, near the current President's residence of Malacanang.
Old Quiapo plays a pivotal focus for the Acuzar family's vision for the site. The site's buildings are positioned and reconstructed to give an impression of late 19th century Quiapo. But it is also the psychological spirit of contemporary Quiapo that inhabits the entire project and the Enriquez House which now houses the Escuela de Bellas Artes Contemporary Artspace.
Jam Acuzar explains that this new art space "reactivates the Enriquez Mansion as a cultural and artistic centre; a bodega for ideas." The Bellas Artes Project hosts exhibitions, artist residencies and community development programmes. Art installations by artists Alfredo Esquillo Jr, Renato Habulan and Geraldine Javier recently inaugurated this new art space.
On January 9th every year, a 17th century wooden sculpture housed in Quiapo church of a kneeling black Jesus Christ, known as the Black Nazarene, is paraded for the day around the streets of Quiapo. Millions of barefooted, mauve-dressed devotees try to touch the image or join together to pull the Nazareno's procession float on a long attached rope. The ensuring frenzied choreography of devotees fills the narrow Quiapo streets.
Miranda Plaza, in front of Quiapo church, has for centuries been a place of alternate devotion, sophistry, politics, faith healing and ritual. One regular devotee in the plaza is faith-healer/prophet Mang Lauro, who in 1987 was 'christened' as Kristong Hari (the Christ King), a self-proclaimed Christ. Since the 1990s, artists Esquillo and Habulan have actively observed the yearly Nazareno and the speeches and devotional activities of Mang Lauro.
The joint Esquillo and Habulan 'Semblance/Presence' art exhibition was originally shown earlier this year at the NUS Museum in Singapore. A section of this installation was acquired by the Bellas Artes Project and is now on display in Bagac. The artists explore the powerful presence of the Black Nazarene and the evangelical thoughts of Mang Lauro and his followers through a range of powerful paintings, sculpture and two compelling videos.
Procession of the Black Nazarene with devotees pulling the float through the narrow streets of Quiapo in Manila.
Upstairs, Geraldine Javier recreates an imagined collection of six cabinets of found and made objects by the fictional character Madame A, a French (possibly half Vietnamese) woman who sought solitude in the world and who eventually settled in an (again, fictional) old house in a small city in the Philippines. Madame A's home had an antique history and interior similar to the Enriquez House.
Javier's eerie memory cabinets, originally exhibited at the Vargas Museum in Manila, perfectly match the Enriquez House interior. On the shelves and inside each cabinet, the artist sets the crocheted remains of the skeletons of small animals, including rats, and surrounds their glassed enclosures with leaves and other objects.
A stuffed owl hovers in mid-flight and a sculptural self-portrait of the artist as a child lies precariously in a hammock, obsessively surrounded by memories. It swings in time alongside the beginnings of a new history for these preserved buildings.
Website: Las Casas Filipinas de Acuzar


A version of this article was published in the South China Morning Post, 25 August 2013.