藝評
---
Mak Ying-tung's 'Almost Empty'
楊陽
at 3:14pm on 15th July 2014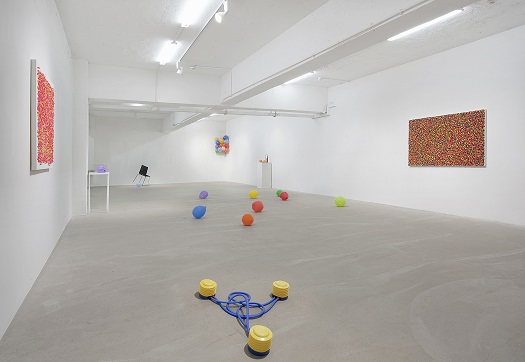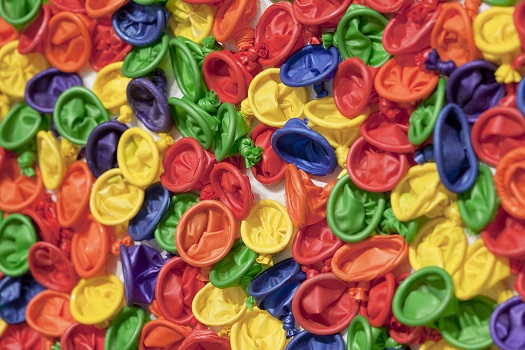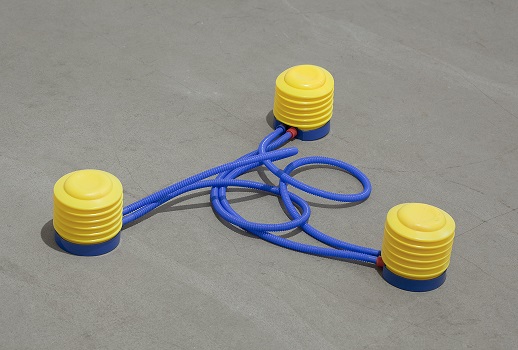 Captions:

1. Installation view of the exhibition at Gallery EXIT.
2. MAK Ying Tung, Heads I, 2014, rubber on canvas, 100 x 150cm.
3. MAK Ying Tung, Heads I (detail), 2014, rubber on canvas, 100 x 150cm.
4. MAK Ying Tung, Us, 2014, foot pumps, dimension variables.

Photos: Courtesy of Gallery EXIT and the Artist
(原文以英文發表,評論安全口畫廊之「麥影彤: Almost Empty」展。)
To walk into Mak Ying-tung's installation 'Almost Empty' is to be challenged by the undefined. The horizontal orientation of the way the objects are placed presents a vision of spreading out, seemingly driven by an imperative to fill up each inch of ground, each corner, each wall.
It is possible to regard the installation as a combination of two approaches to the main character at play: the party balloon. In the first approach, Mak breaks down the self-possessed form of the ordinary party balloon loaded with meanings of play, fanfares and celebrations into the smallest units – hundreds of detached knots of balloon heads now attached to canvases, air in its representation of closed-circuit pumps, and fragments of rubber fallen off a dozen resin-stiffened balloons on the ground. The ordinary objects are not only decontextualized, but made impotent and dysfunctional. In the second approach, Mak ponders about motions stopped; the humanly-devised life of the party balloon of inflation and deflation is interrupted. One half-deflated balloon is stiffened up in a glass case, one resin-framed balloon is placed under a chair, tilting it, and several resin-framed balloons are bound together in vacuum.
Mak has a consistent interest in the conditions of the materiality and received meanings of objects of daily life. Having worked primarily with pairs of objects and paired ideas by intervening and transforming their relations (eg. a needle pricking strawberries in 'Sterilisation', multiple tissue papers oozing out of a punctuated tissue box in 'Liberation', party horns sounding out and literally blowing out banknotes in 'Happy, Happier, Happiest'), Mak chooses to attend to the singularity of the party balloon in 'Almost Empty'. In this new move to study the object in its physicality, Mak retreats from telling one-off narratives and turns instead to studying the force of her own intervention. She refuses to stop at the mere whimsical that is appealing for instant gratification but no longer adequate in satisfying the artist's attention. The installation becomes an objectification of multi-faceted processes of her musings. I recall John Armleder's Furniture Sculptures - non-representational, stage-conscious, almost anarchical.
It is always rewarding to encounter artists willing to take up new challenges, to try to be a little different from the way they were. The only problem I have with 'Almost Empty' is the two canvases with the balloon heads. While the installation succeeds in challenging the our routinized attention, by conjuring up an oddity that lingers in space, a similar rigor seems lacking in confronting the conventions and established consistencies of the canvas as a material form.
For artists who invest extended time in researching and testing out the nature of materials and the nature of human intervention, the struggle of whether or not to tell the hardship of the process in the final work is real. This is also a choice between showing oneself - as a maker who has worked hard and endured, and showing what she has surrendered to - that which she has learnt and let come into her aesthetic. Some things show without being said, some don't, even after being encouraged.
July 2014
Exhibition:
'MAK Ying Tung: Almost Empty' @ Gallery Exit