藝評
---
Ju Ming - Sculpting the Living World
約翰百德 (John BATTEN)
at 11:42am on 15th May 2014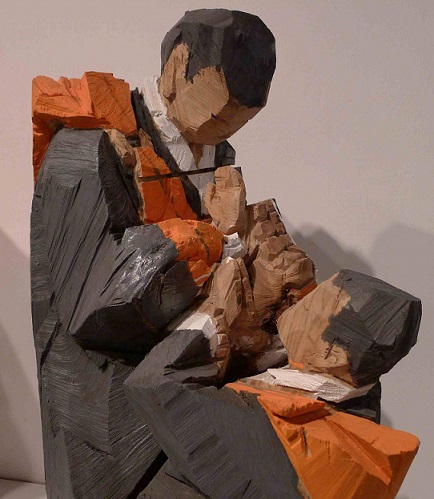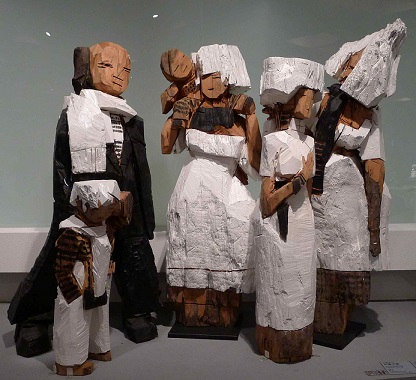 Captions:

1. Ju Ming, Lining Up, copper, 2002.
2. Ju Ming, Monk, camphor wood, 2006.
3. Ju Ming, Family, camphor wood.
4. Ju Ming, Living World Series – Sitting, copper, 1999.
5. Ju Ming, Living World Series – Gentlemen, bronze, 2003.

All photos by John Batten.



(原文以英文發表,評論「刻畫人間 ─ 朱銘雕塑大展」。)

Apprenticed at 15 years of age to a respected wood carver of temple statuary, Ju Ming mastered the delicate techniques of wood sculpting in his hometown of Miaoli in Taiwan. However, he realised that "as a craftsman, I worked for clients to make them happy; but as a creative artist, I could make myself happy." In 1968, aged 30 years, he started as an assistant and studied modern sculpture with Yuyu Yang, whose expert instruction in the techniques of stainless steel sculpting is also seen in this expansive exhibition.

Ju Ming was immediately honoured in the mid-1970s when he initially exhibited his famous Taichi series of wood and bronze sculpture. Despite this success, Ju Ming sought other challenges and further study by relocating to New York for much of the 1980s. The stimulus of this vibrant multicultural city inspired him to depict the human form in a range of daily activity - his Living World series began here.

This is ostensibly a simple array of people living in our world. Single pieces have previously been seen in Hong Kong and could be viewed – with their tints of mawkishness and strong primary colouring - as mere decoration. However, seen as a holistic series, Ju Ming's Living World sculpture is ambitious and decidedly not decorative. It is a magnificent display of the artist's humanity and technique. The human activity spread outdoors and within the museum is simply uplifting: people haphazardly queuing, women chatting, monks giving blessings, swimmers stretching, suited men under umbrellas, and groups of people sitting enjoying life.

Ju Ming presents the human form in a range of media: favoured for groups of women is rough chainsaw cut wood, later painted. He builds the form of a delicate pirouette of ballerinas from ropes, sponges and polystyrene cast in bronze. Thick slabs of clay and copper are also employed - the clay wrung by hand and heavy copper sheets manipulated by great mechanical presses and pincers by a team of assistants.

In this week of competing art market brashness, this humanistic exhibition will bring a smile and a nod to artistic creativity.



Ju Ming, Swimmers series, interior view, 2014.

Exhibition:
Ju Ming - Sculpting the Living World @ Hong Kong Museum of Art
A version of this review was published in the South China Morning Post, 13 May 2014.