藝評
---
Jogya Biennial 2015
約翰百德 (John BATTEN)
at 4:41pm on 21st December 2015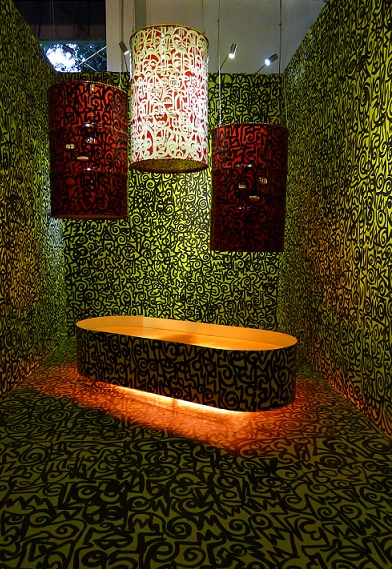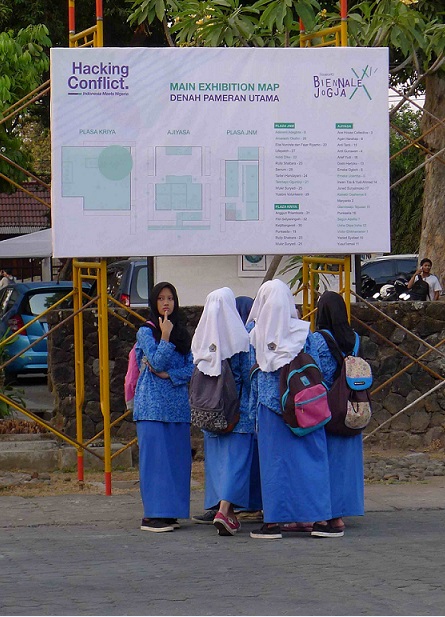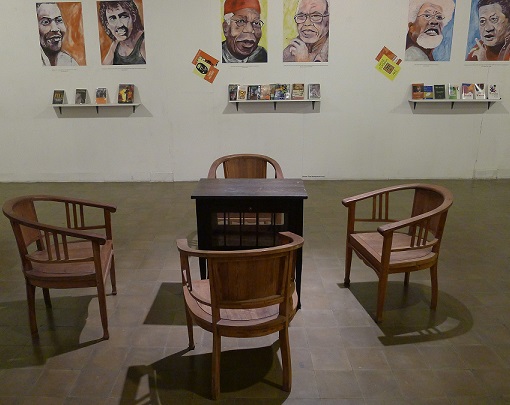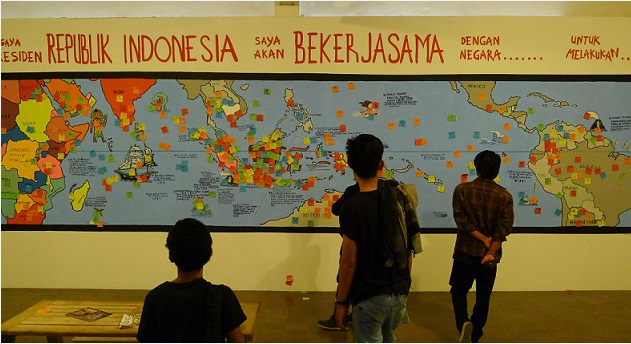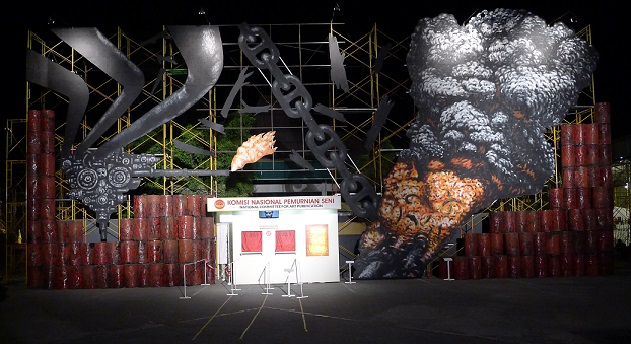 Captions:
1. Victor Ehikhamenor, The Wealth of Nations, mixed media installation, 2015

2. Students waiting to enter Jogya Biennial, Yogyakarta, Indonesia, 2015

3. Literature installation of Nigerian and Indonesian writers - with hand-painted portraits of writers and quotations

4. Map and explanatory text describing the equatorial aspects of the Jogya Biennial

5. Installation views of Ace House Collective's National Committee for Art Purification, 2015 - Entrance of installation at night

All Photos: John Batten



(原文以英文發表,評論印尼〈日惹雙年展2015〉。)

From its beginning in 1988, the Biennale Jogya in Yogyakarta has pulled above its weight to be Indonesia's most international contemporary art event. As well as showcasing a range of Indonesian visual artists, musicians, writers, speakers and community activities, the biennial has taken a brave sub-theme for its last three editions: linking Yogyakarta with another country that skirts, like itself, the Equator. This year, Nigeria was selected, with nine artists spending a month residency in Yogyakarta. To reciprocate, a group of Indonesian artists will return to Nigeria next year.

This equatorial connection gives the biennial special depth, allowing it to introduce other cultural stories, particularly within a post-colonial framework. African artists, for example, are rarely exhibited in Asia and their viewpoint provides a rare, refreshing aesthetic between the biennial's main exhibits and informative cross-cultural collaborations. The biennial will continue its relationship with other equatorial countries until 2021, with the next edition highlighting artists from the Pacific.

Displays and events are spread throughout the city, with the main exhibition located at the Jogja National Museum. The biennial's intellectual tone is immediately established with an introductory display about Nigeria, taking a comparative approach pinpointing cultural, political and historic rhythms with Indonesia. In a library-styled room is an installation of tables, reading chairs and shelves holding a selection of books written by post-colonial contemporary Nigerian and Indonesian writers.

Hand-painted portraits of these writers line the walls and beneath each portrait is a quotation. Playwright, activist, political prisoner and Africa's first Nobel laureate for Literature, Wole Soyinka is quoted saying, "The greatest threat to freedom is the absence of criticism." While the highly influential Chinua Achebe reminds biennial visitors that, "One of the true tests of integrity is its blunt refusal to be compromised." The biennial is built around such quotations as maxims, anticipating the biennial's display of previously sensitive subjects as institutional corruption, political detentions and historical inaccuracies written into Indonesia's national canon.

Art as activism runs throughout the biennial. Curated by artist and musician, the energetic Wok the Rock (sic), each of the displayed art contains an element of political commentary, environmental protest, historical re-assessment, community participation or economic analysis. It is a fascinating, multi-layered display and densely thought provoking with a concentration on local Indonesian issues.

Biennial director Alia Swastika believes that this biennial follows recent international trends, "Many of our artists have travelled overseas, have seen what artists are doing and been influenced themselves to do community and art projects highlighting social issues."

Hong Kong's recent Umbrella protests spawned a resurgence of art activism, previously seen against the demolition of the 'Star' Ferry, the proposed introduction of a national education curriculum and of the construction of the Cross-Border Fast train to Guangzhou. Artists highlight and protest sensitive issues, but change is achieved by political and social activists who have a longer-term commitment to action. The biennial has a similar dilemma – a fascinating array of social issues is presented, but determined political lobbying is missing.

Visitors lining up to register and enter Ace House Collective's National Committee for Art Purification, 2015 with 'crying' video above

Booths to clean eyes and ears for Ace House Collective's National Committee for Art Purification, 2015
Indonesian artist and community activist Elia Nurvista says, "I am an artist, not a political activist." But, her elaborate collaboration with Fajar Riyanto and women of nearby villages to display Hunger, Inc, that includes a video and installation highlighting corruption involving the distribution of rice to Indonesia's poor, could have evolved into a stronger action for change. The distributed rice is often 'skimmed' beforehand and added with bad-quality kernels or small stones to give bulk to rice bags.

Nurvista highlights this corruption, but as her video depicts: the poor themselves did demand improvements in supplied rice through media attention and direct protests. After the stepping-down of former President Suharto in 1998 and the liberalization of the country's media, corruption and maladministration is not so easily tolerated. The real challenge is to unroll real change – visual artists depicting social issues could also strategise for that change.

Nurvista's installation is joined by Nigerian artist Temitayo Ogunbiyi's Created Just for You – a witty presentation of SMS messages and fast food packaging using romantic themes, but presented on printed adverting paper mats usually seen atop fast food restaurant trays. Nearby, Ndidi Dike's large-scale photographs of Lagos street-markets successfully links the colonial trading of Indonesian spices with the politics of present-day food commoditisation and consumption in both countries.

Questioning art itself, the Ace House Collective set up an elaborate interactive installation at the entrance to the biennial's main pavilion. Explaining that, "art becomes a tool for explaining and 'cleansing' many complex issues that society faces today…but art methods also need to be politically reviewed." So, the Collective's fictional National Committee for Art Purification detoxifies visitors coming to the biennial. The Collective invites visitors to register to 'see art anew,' then they enter a partitioned cubicle to have their ears cleaned and eyes washed by a volunteer. While waiting in line, visitors view a video of crying people, supposedly 'cleansed,' alongside the challenge: "What art you looking for."

Finally, after this cleansing, visitors are given a pair of Carnival-style cardboard 'glasses' to view the exhibition. These procedures do heighten the visitor experience! An intriguing sense of skepticism towards art itself and the biennial's displays follows. But, it is art's own limitations to tell some stories that is understood - and that is no bad thing.

A summary of both countries' recent past is seen in Lagos writer and artist Victor Ehikhamenor's The Wealth of Nations. His display of painted drums and a pool of oily (blood mimicking) water is powerful. In 1998, both Indonesia and Nigeria were freed of dictatorial governments and entered a new era of freedom. Ehikhamenor uses oil and the oil drum as a metaphor, as both countries are oil producers whose production largely determines each country's economic position on the world's markets.

During the Nigerian Civil War or Biafran War (1967-1970), it was the drum that political prisoners were tied to and executed. Ehikhamenor's installation challenges us, as Wole Soyinka requests, to be historically "critical."

Indonesia is slowly researching its recent history following Suharto's take-over of power from Sukarno in 1965. It was a different, challenging, violent time – and art, if not always able to influence real change, is at its critical best with its "blunt refusal to be compromised." This biennial does that well.


Link for further information:
Jogya Biennial 2015

A version of this article was published in the South China Morning Post, 6 December 2015.