藝評
---
Impermanence - Contemporary Tibetan Art
約翰百德 (John BATTEN)
at 1:42pm on 18th August 2014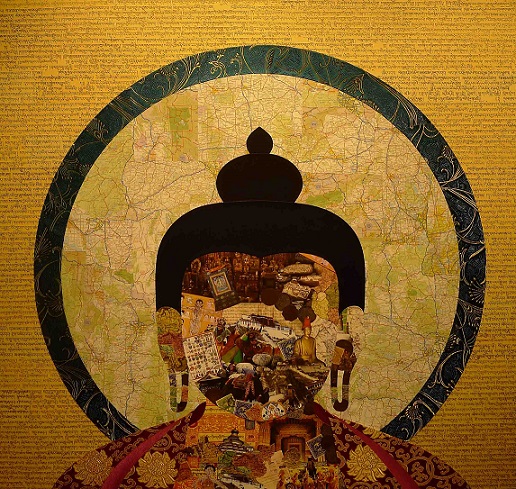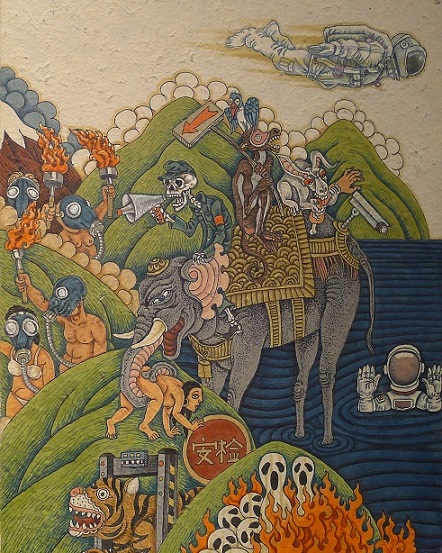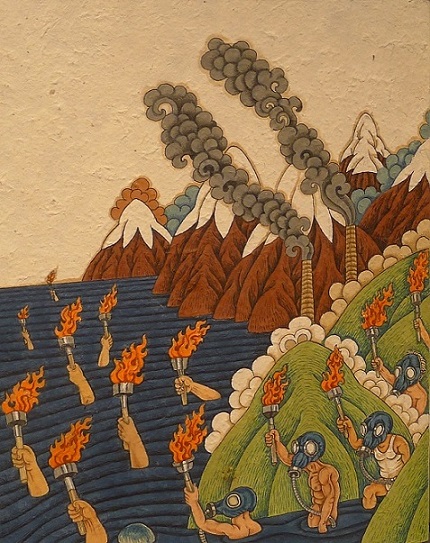 Captions:

1. Kesang Lamdark, Pink Tara, mixed media and lights, 2014.

2. Tenzing Rigdol, Riders on the Storm, USA, 2014, collage and silk brocade, 122 x 122 cm (48 x 48 in).

3. & 4. Gade, My White Papers, Tibet, 2014, handmade Tibetan paper, wooden bookcase and acrylic, 28 x 22 cm (11 x 8 ¾ in) each, 10 pieces in total (detail).




(原文以英文發表,評論「Impermanence - 西藏當代藝術」展。)

Kesang Lamdark's iridescent Pink Tara welcomes visitors and dominates the entrance to this excellent group exhibition of contemporary Tibetan art. A tara is a female Bodhisattva or Buddha, whose form - identified by its colour – can represent a Buddhist virtue: for example, a White Tara denotes compassion and serenity; a Yellow Tara is associated with wealth and prosperity. A pink-coloured tara is unknown in Tibetan iconography, but this garish version constructed with chicken wire covered in dripped plastic with inserted pink fluorescent lighting could be imagined to represent the less virtuous behaviour of paid sex.

Kesang's brazen sculpture hints at some of the serious and divergent political and social pressures confronting modern Tibet. Impermanance is a loosely themed exhibition comprising sixteen artists from the wide Tibetan diaspora. Using the constant flux of the Buddhist view of the world as an understandable starting point, the artists tackle unrest towards Chinese hegemony on the Tibetan plateau, and the loss of Tibetan language, social and religious freedom and the onslaught from Western culture, media and social behaviour.

These pressures are best seen in Gade's My White Papers, a set of ten 'books' arranged in a lined sequence giving a fantastic tableau of real and imagined stories, creatures and unlikely landscapes of Lhasa, inspired by Gabriel Garcia Marquez's One Hundred Years of Solitude, which Gade on reading thought was actually describing Lhasa.

From a distance the mauve and saffron of a monk's robes appear whole and contented, hanging as if waiting for their owner to return. But, on closer inspection, the artist Tulku Jamyang has painstakingly burnt small, evenly spaced holes with sticks of incense into the entire robe. The slow morbidity of the artist's action replicates self-immolation as protest in Tibet. It is a sobering, disturbing, simple installation.

The struggle to maintain and the confusion of identity is a strong theme for artist and poet Tenzing Rigdol. His collage and mixed media work is a powerful synthesis of opposing cultural sentiments for this young New York-based, Nepal-born, educated in India, Tibetan. Far from home, he laments: "On my way to Jackson Heights (New York)/A homeless jingled his cup of coins./I fed a dollar/And then wondered…/Who is more pathetic?"


Exhibition:
'Impermanence - Contemporary Tibetan Art' @ Rossi & Rossi, Wong Chuk Hang

A version of the review was published in the South China Morning Post, 8 July 2014.