藝評
---
Gerard Henry - Interior Landscapes
約翰百德 (John BATTEN)
at 3:17pm on 10th June 2011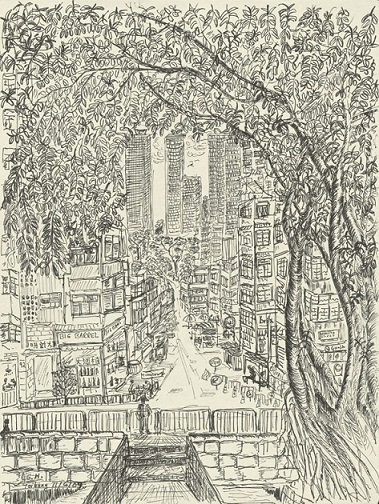 (原文以英文發表,評論《内在風景 - 敖樹克繪畫與文字創作展》。)

Gerard Henry describes himself as "a writer who also practices drawing and sketching". This modest biographical summary understates Henry's daytime job as editor of Hong Kong's only dedicated cultural magazine, Paroles, published by Alliance Francaise. His active and involved commentary of Hong Kong's arts scene for over twenty years is well portrayed in this exhibition.

Interior Landscapes is an exhibition of drawings in series, but presented like an illustrated diary. Written anecdotes introduce a range of friends, artists and locations and each set of drawings offers psychological depth to the subjects. Henry describes many of these drawings as "portraits of people (but) not by drawing the person itself but by drawing their interior, their objects and walls which reflect their occupations and personality".

This surprisingly formidable exhibition uses the simple tools of ink and pencil on paper to strip back each depicted view to a humane and romantic core. We are privileged to see the crowded interior of artist Wong Yan Kwai's previous two studios, each exuding Wong's preoccupations as a musician, visual artist and polymathic designer, photographer and writer. Similarly, Suzy Cheung's ceramic studio in Tai Hang is packed with objects dominated by an incongruous chandelier that in Henry's drawing hovers as with brooding, resting bats.

Artists' sketches have generally been a preliminary to more substantial work, such as studies done for painting or sculpture, but Henry starts and ends with drawing. They complement and expand on his own writing, similar to interest in Allen Ginsberg's photography have latterly added a visual dimension to his poetry and life.

By introducing a friend as Laurence "of Montmartre", Henry echoes Kiki of Montparnasse, the famously liberated muse of Parisian artists in the 1920s. Laurence's Paris apartment is similarly depicted as a trove of intellectual openness. Henry relates that Laurence lent her flat to him if he drew the "shape" of the walls, "I took a pencil and travelled from one wall to another, from one room to another. On the seventh day I sat down by the window…It was a winter morning in Montmartre; high in the trees crows were squabbling and emitting raucous cawing." The drawings have glimpses of balconies and corners of piled books, the scene neatly balanced with this appropriate allusion of disorder provided by brawling crows.

The artist's wife, Sonia and her presence subtly permeate all these drawings – she stands (see image) facing the high-rises of Causeway Bay and "lives among her books by the window of her office, dreaming of the city. The covers of her books reveal a part of her world: Virginia Woolf and the Chinese poet, Lin Hui Yin, The Pain by Marguerite Duras…".

The city in question could be Paris or Hong Kong and Gerard Henry's drawings interchange a poignant vision of the two, reflecting the tugs of this home and a distant homely place: a not uncommon feeling for many living in this city.

Exhibition: Interior Landscapes: Gerard Henry's Drawings and Texts
Date: 21.5.2011 – 26.6.2011
Venue: Ox Warehouse, Macau
Enquiries: 853 2853 0026
Website: http://oxwarehouse.blogspot.com


A version of this review was published in the South China Morning Post on 12 June 2011.