藝評
---
Excuse me, where is the market?: Roy Ng Ting Ho, Wong Ka Wing, Vivian Ho, Wong Tin Yan, KACAMA
約翰百德 (John BATTEN)
at 6:22pm on 11th September 2013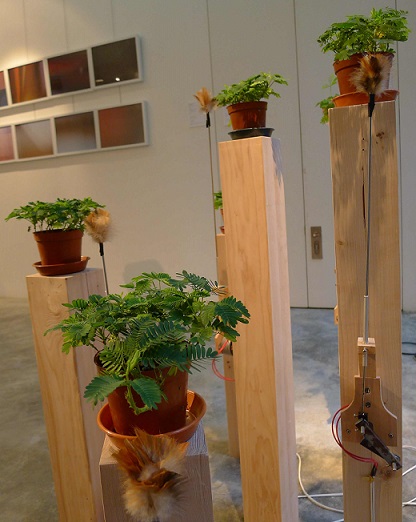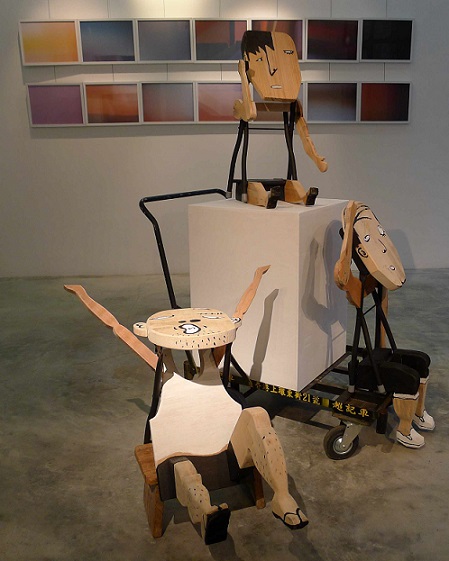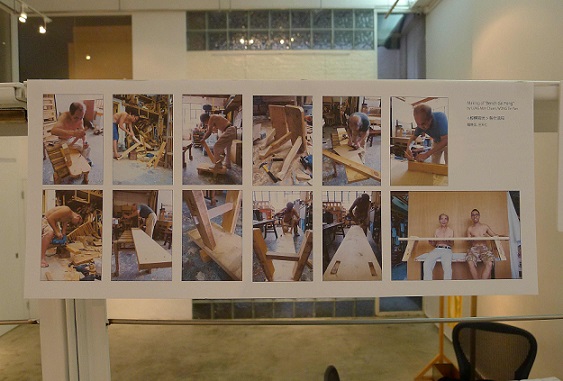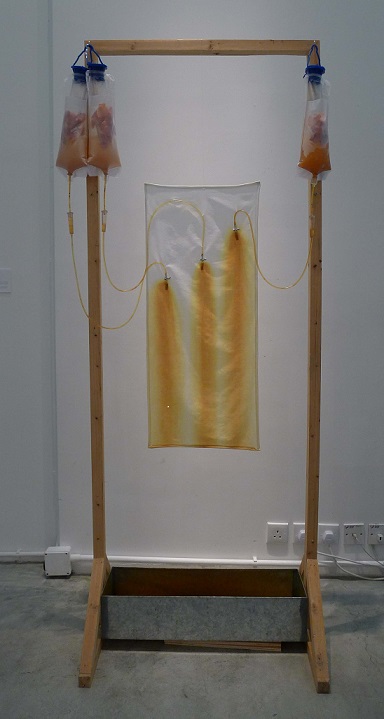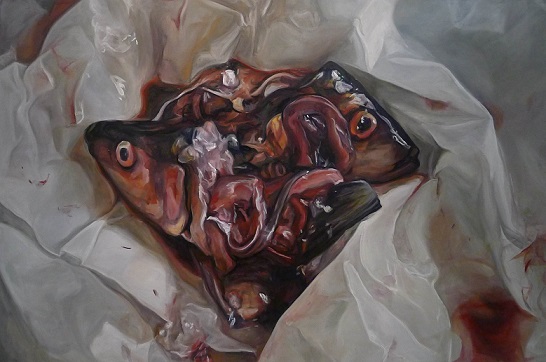 Captions:

1. Roy Ng Ting Ho, Mimosa, mixed-media installation, 2013, and in background: Wong Ka Wing, Preserved Image series. Inkjet print on paper, 70 x 100 cm each.
2. Wong Tin Yan, Folding Stool Gai Fong, mixed-media, 2013, and in background: Wong Ka Wing, Preserved Image series, inkjet print on paper, 70 x 100 cm each.
3. Text and images explaining collaboration of Wong Tin Yan and Lung Man Chuen.
4. KACAMA Design Lab, Colour of Waste, mixed media, 2013.
5. Vivian Ho, Unwrapped, oil on canvas, 166x112cm, 2013.
Photo: John Batten


(原文以英文發表,評論《請問,街市喺邊?》展覽。)


Like a bounty on a criminal's head, the one-off grant of HK$120,000 currently offered to street vendors by the Food & Environmental Health Department to surrender their stall licenses is denuding Hong Kong's few remaining street markets. Another victim of this toxic largesse are newspaper stands that give great service and visual variety on our streets. As a writer for a newspaper, the official encouragement to demolish newspaper friendly vendors is deplored!
And we mutter, "Where IS the market?"
Curated by the young artist Reds Cheung King Wai, this group exhibition features a cross-media discussion of Hong Kong's disappearing street markets. At the Yau Ma Tei end of the long Canton Road market, a vibrant road of pedestrians and street stalls is being opened to vehicular traffic. A previous friendly neighbourhood of street vendors is disappearing, replaced by double-parked cars and noxious air.
Wong Tin Yan believes that a market's life derives from its people, its kai fong, the entire community of vendors and customers whose work and daily shopping journeys give a market its vibrancy. Working with Lung Man Chuen, a local Wan Chai building contractor, Wong makes a wooden bench for his wooden figures of people who work in and around the market to sit on.
Roy Ng Ting Ho constructs kinetic sculptures that are often technically ambitious. For this exhibition, the slow nurturing of plants by market flower sellers is replicated in a series of five mechanical constructions. Sitting atop wooden plinths are potted mimosa plants, which are gently and periodically touched by a feather attached to a mechanical arm. This monotonous but caring action replicates the slow tending that market vendors treat their plants, prior to their sale. Ng contrasts this against the purely commercial, impersonal transactions in supermarkets.
Likewise, the reality of food preparation is seen in Vivian Ho's sumptuous large paintings of the bloody meat, entrails and fish laid out for buyers to peruse and select.
KACAMA Design Lab is a studio of three designers whose practice attempts to create eco-awareness by using "post-consumer waste materials." Their Colour of Waste construction uses a slow drip-feed solution of water and brown onionskin to dye a stretched white cloth. The result is an alarming rust-stained pattern, but it simply proves that onionskin stains.
More successful is Wong Ka Wing photographs, whose power is in their deliberate indistinctness. Wong photographs the names of businesses operating in Graham Street market, but he has taken the lens off his camera. The resulting minimalist photographs merely show gradations in colour, the names of businesses unseen, disappeared. As it will soon be – too late - their fate.
Red Elation, whose split-level interior has previously hosted many admirable community events, is located in an area undergoing rapid gentrification, similar to the pressures on our markets. This is a good exhibition, but with more curatorial passion it could have been a compelling story about Hong Kong's vibrant street culture.

Exhibition:
Excuse me, where is the market?
@ Red Elation Gallery until 21 September 2013


A version of this article was published in the South China Morning Post on 10 September 2013.