藝術議題
- 藝術與公義
---
最新的專題文章如下。如欲閱讀有關同一議題的其他文章,可再點擊右下角資料庫的年份和月份。


香港這個家 | Hong Kong as Home
約翰百德 (John BATTEN)
at 9:38am on 25th November 2019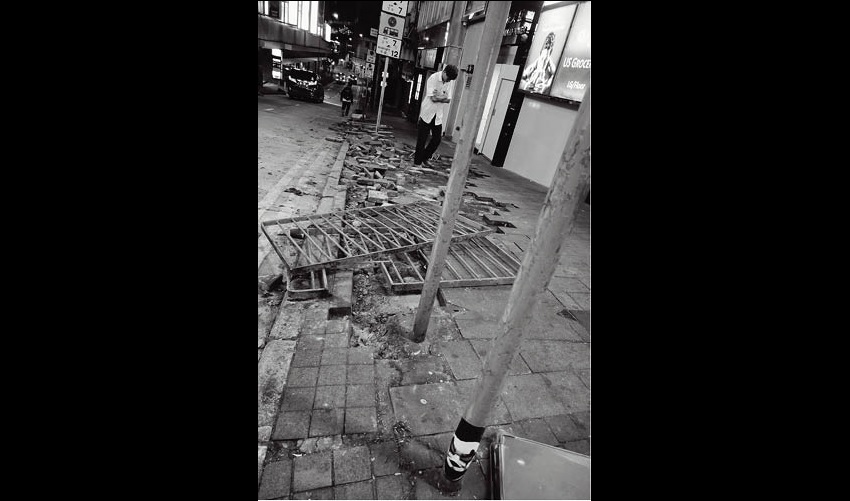 圖片說明:
2019年11月11日,示威過後的中環。圖片由作者提供。
Caption:
After protests, Central, Hong Kong, 11 November 2019. Photo: John Batten.




(Please scroll down for English version)

「你是外國人,隨時都可以離開香港」,這句評語是我在港多年常常聽到的評語。技術而言這是對的。然而,說話卻未有反映我在香港生活的較真實一面:我選擇在香港定居,由第一天來到這裏開始便常常說「香港是我家」。這句表述所盛載的心理承諾充滿着強大力量,也堅定了我定居於此的想法,我知道自己不會只是過客,不會只從香港帶走自己喜歡的而不做什麼貢獻。

相對於大部分跟我年紀相約的同代香港市民,我的經歷是很不同,我來港的原因,毫無疑問不及他們悲壯。我沒有游水渡過深圳河或大鵬灣,也不是在家庭團聚的名單上,無休止地等待和香港的家人再次一起生活。身為單身漢,我到埗時並沒有與其他單身漢分租宿舍,又或住在草草搭成的寮屋,又或投靠認識不深的遠房親戚。我也沒有因為山窮水盡而需要接受任何卑下、骯髒又或危險的工作;雖然在來港之前我也有做過類似的工作。

但是,選擇住在香港,令我與其他同樣選擇住在這裏的市民有了一種現世的親近。無論是什麼前因把我們帶來香港,我們都是在同一個地方生活,一同在這裏逐步落地生根、工作、交朋友、為未來儲蓄、建立家庭 — 我們都對更美好的將來抱有希望。我們慢慢認識這個城市和她的獨特個性。我們在自己最喜歡的地方做自己最喜歡的事。我們吃喝玩樂、逛街、交際。我們認識自己的社區,也成為城市脈絡的一部分。即使我們離開,也總會快快樂樂地回來。搬到其他地方理論上是可行的,但我們都不會這樣做,因為很多人都和我一樣,我們都愛香港。

上星期周梓樂過身後,街上混亂一片的一天,我看到對面街燒臘店一位和我年紀相若的工人疊起雙手,在街上打圈地走來走去,踢開示威者鬆開的行人路地磚。這個動作不帶半點憤怒,而是顧己及人、深思熟慮的動作。在內,食肆沒有人客;在外,街上滿目瘡痍、空無一人。

他是不是與我們所有人一樣,為身邊所發生的事感到迷惘?這是我們的家 — 我們難以接受現時所發生的事情正在自己的家上演。我們不可以袖手旁觀,讓整個城市枯萎或燒掉。

我看不到政府持續不作為的邏輯,也不明白為什麼政府會支持警方以武力清場,為什麼政府逃避回應連場示威的癥結:政制與選舉改革。正是政府毫無彈性的侵蝕態度,助燃了示威的烈火,導致暴力升級。那麼,還有哪些事情正在發生?

一個或者可信的陰謀論,是政府和警察的種種行動,最終將把香港的股票和物業市場拖垮。然後,那些資產便會賤價被新的(內地?)買家掃清。這個推測可以與另一個理論一同看:香港只是一個龐大的樓市—城中建築物由誰來住根本不重要。資產價值大跌後,城市的金融和服務經濟業務將會繼續,但新一批移民(內地順民?)將成為我城的新市民。

如果是這樣的話,我們這羣人和我們的家怎辦?

哈哈!到了那時,我們所有人都變成外國人,「隨時都可以離開香港」。聽去很像另一個陰謀論吧?還是所言非虛?

後記:執筆之時,香港多家大學被圍封了,課堂也相繼取消,還有學生像守着要塞般保護自己的校園。在高處向吐露港公路和東鐵線針對公眾投擲垃圾的危險行為,嚴重違法。香港多條主要幹道和隧道都封閉了。同時,有人盛傳習派和前主席江澤民的上海幫出現對壘。這正是令香港政治危機白熱化的重大因素。這是一個無法持續的局面,必會很快瓦解。


原文刊於《明報周刊》,2019年11月21日




Hong Kong as Home

by John Batten


One of the regular comments I have received over my years in Hong Kong is, "you are a foreigner and can always leave Hong Kong". This is technically correct. However, it doesn't quite capture what I consider a truer aspect of my life in Hong Kong: I chose to live in Hong Kong and from my very first day here I always said that "Hong Kong is my home". The psychological commitment to place in that statement is incredibly powerful and reinforces the intention to live here and not just be a temporary passerby, happy to take from the city without making much contribution.

My life experiences are different from most Hong Kong residents of my age and generation, whose circumstances coming to Hong Kong are undoubtably more epic than mine. I didn't swim across the Shenzhen River or Mirs Bay, nor was I on a family reunion waiting list, waiting in limbo to join a family member already living in Hong Kong. As a single man, I didn't arrive and share quarters with other single men, nor live in rough squatter housing or share accommodation with distant relatives I hardly knew. Nor, in desperation, did I need to accept any menial, dirty or dangerous job on offer; although in my past I have done such work.

But, choosing to live in Hong Kong gives me a temporal closeness with other residents who also made that same conscious decision to live here. Whatever our circumstances brought us, living here is what we do, and our lives are mapped out by slowly putting down roots, work, making friends, saving for the future, raising a family – and have hopes for a better future. We slowly got to know the city and its idiosyncrasies. We engage in our favourite activities at our favourite places. We eat and drink, shop and socialise. We know our neighbourhhoods and become part of the city's fabric. And when we go away, we happily return. Living elsewhere is theoretically possible, but we don't, because – like me – we love Hong Kong.

After Chow Tsz-lok's death, on one of the days of chaos in the streets last week, I saw a man, similar to my age, a worker from a roast meat restaurant, cross the street, and with arms folded, he spiraled round and round, kicking at the footpath stones loosened by protesters. They were not angry movements, but considered, wistful and thoughtful. Inside, the restaurant had no customers; outside, the streets were trashed and empty.

Was he confused, like all of us, about what's going on? This is home – we can't easily accept what is happening to our home. We can't stand silently and watch it wither or burn.

I see no logic in the government's continued inertia and their support for aggressive police clearances of protesters, and their avoidance to tackle the crux of the protests: political and electoral reform. It is an inflexible, corrosive attitude fueling the fires of protest and escalating violence. So, what else could be going on?

A plausible conspiracy theory is that such government and police actions will eventually cause Hong Kong's share and property markets to collapse. Then, those assets will be cheaply snapped-up by new (mainland?) owners. Such a speculative idea runs alongside another theory: Hong Kong is just a vast property market – it doesn't really matter who occupies the city's buildings. After such an asset collapse, the city's financial and service economy operations will continue, but a new crop of (compliant mainland?) immigrants will be the city's new residents.

So, what about us and our home in this scenario?

Haha! By then, we will all be foreigners, "and can always leave Hong Kong". That sounds like just another implausible conspiracy theory. Or, is it?

Addendum:
As I write, Hong Kong universities are in lock-down, classes cancelled and students are protecting their campuses as if they are fortresses. The dangerous targeting of the general public by throwing debris onto the Tolo Highway and East Rail Line is serious criminal behaviour. Major roads and tunnels throughout Hong Kong are closed. Meanwhile, speculation is rife that rivalry between Xi Jinping allies and former President Jiang Zemin's Shanghai faction is a significant factor fueling Hong Kong's political crisis. It is an untenable situation – and must surely crack soon.



This opinion piece was originally published in Ming Pao Weekly on 21 November 2019. Translated from the original English by Aulina Chan.