藝術議題
- 傘運創意
---
最新的專題文章如下。如欲閱讀有關同一議題的其他文章,可再點擊右下角資料庫的年份和月份。


Hong Kong Umbrellas, Ferris Wheels, Korean Ghosts & Slogans
約翰百德 (John BATTEN)
at 4:19pm on 27th October 2014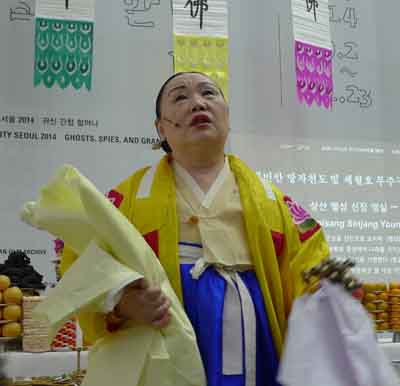 Captions:

1. Informal lectures at Tamar Park during university class boycott, 23 September 2014 - park is situated above Lung Wo Road & near to ferris wheel adjacent to Central harbourfront. (English translation of banner: "If we don't burst out in silence, we will die in silence." Quotation from Lu Xun, in his essay In Memory of Liu Hezhen - a student of Lu Xun who died in the '318 Incident' in Beijing.)
2. Gut opening ceremony at SeMA Biennale Mediacity Seoul performed by a shaman.
3. Ho Sin Tung: Cinema promotion poster, mixed-media on paper, 2014 (note: Hong Kong protesters in one corner), at Seoul Film Archive (image courtesy of artist).
4. 'Asia's World City' logo on Inland Revenue Department envelope.



(原文以英文發表,題為「香港雨傘,摩天輪,韓國鬼魂和口號」。)

Promoting Hong Kong to the world has thrown up some dubious ideas over the years. The decade-old campaign advertising Hong Kong as "Asia's World City" – a catchphrase with no particular Hong Kong cultural signposts - was questionable when first launched. It sounds increasingly dated in a globalised internet-connected world and as a majority of the city's tourist arrivals visit from the mainland.

Hong Kong's government liberally uses the campaign's stylized dragon logo and byline. It features on government website banners and Hong Kong's senior public officials hand out name-cards carrying the logo. It is especially popular for those whose job has an international or business focus and for promoting Hong Kong's tourism potential.

However, that is the logo's biggest flaw: it is used, without discrimination, as both lightweight general advertising and as acknowledgement for a range of Hong Kong government support: from serious business delegations to cultural displays and art exhibitions. The logo's interchangeability gives mixed signals about Hong Kong; the dragon logo is probably acceptable for a fun tourist marketing promotion, but not serious enough when linked to Hong Kong as a major financial centre with the rule of law protecting business transactions, or, as a contender as a significant centre for arts and culture.

The city's confused profiling trickles down and can be seen in the oddest of places. Our newest public feature of 'enjoyment' is the recently unveiled ferris wheel located on Hong Kong's Central waterfront near the Star Ferry. Its deliberate placement makes its presence official and city officials want it. I suppose it is a tourist feature, a fun ride to see the city from a height. But a walk around The Peak does that – and better. This structure will never be a symbol of the city, like the Eiffel Tower in Paris, or as the hovering ferris wheel in Vienna's Prater amusement park of Carol Reed's film The Third Man. The Hong Kong wheel has no distinguishing character; it will be compared to London's 'Eye'. It is derivative, a homogenous idea and structure. A disappointment.

The parcel of land on which the ferris wheel occupies is offered to the operator on a short-term government lease. Other temporary activities will also be held here, including in March 2015 an art fair in a tent-pavilion coinciding with Art Basel. This entire foreshore was reclaimed to accommodate the new Central to Wan Chai bypass road, with some sections still under construction. Eventually a park will be squeezed around the roadway and other infrastructure, including a controversial boat docking area for the People's Liberation Army (however, pending a judicial review) and an unpromising-sounding 'arts corridor' running past Tamar to near the Academy of Performing Arts.

An arts corridor! The arts however cannot simply be sectored into parcels of land and organised like this. Ironic, as nearby Admiralty's student protests have transformed the area into an outdoor display of banners and satirical artistic posters discussing universal suffrage. An arts vision is encompassed by ideas, and then played out in a variety spaces. Hong Kong's flirtation with the art world has certainly expanded at the market-end – fine art auctions and art fairs - but the serious, ideas and analytical end of the arts continuum, is under-represented.

This was reinforced on a recent visit to South Korea, which is currently hosting concurrently the Gwangju Biennale, Busan Biennale and SeMA Biennale Mediacity Seoul. All well funded, internationally promoted and respected. These biennials have existed for many years, but this year's editions indicate greater maturity in content and a confidence to tackle unconventional ideas.

Sited at the Seoul Museum of Art and the Korean Film Archive, the SeMA Biennale Mediacity Seoul is curated by the biennial's Artistic Director, Park Chan-kyong, himself a documentary filmmaker. Park's considered title of 'Ghosts, Spies, and Grandmothers' asks the biennial's audience to consider, respectively: the otherworld of animist belief, shamans and the supernatural ('Ghosts'); a reconsideration of the Cold War and Korea's social and political mirroring of that history ('Spies'); and a homage to elderly women and their quiet, often overlooked, strength ('Grandmothers').

It is a remarkable and unlikely focus, but with astute enquiry, Park has predominantly chosen a range of lesser-known artists to reflect on our world with engaging richness. Hong Kong's sole representative in this biennial is the young Ho Sin Tung, who exhibits an imaginary film festival of posters, synopses, programme guide and video installation, originally seen at the 2012 Shanghai Biennial.

A place is culturally confident when an event can confront the unpalatable. The disastrous sinking of the MV Sewol earlier this year with the loss of 300 people, mainly secondary school students, shocked Korea, resulting in demands for reform of the country's established institutions. The biennial's opening at the Seoul Museum of Art squarely confronted this grief. In a traditional Korean gut ceremony, an animated shaman (a grandmother in action) and assistants placated the biennial's spirits, any restless souls, and recalled the ferry victims. The biennial was ceremoniously topped-off, ready for the public and open for many international visitors.

Hong Kong has no international visual art biennial to discuss our big issues. But, we have the streets of Admiralty and a new ferris wheel that goes around in circles.


This article was originally published in The Peak magazine, November 2014.